Words Hurt
Print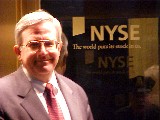 On Friday, 22 Jan 16, a famous publication in our industry made a move on the reported price of certain paperboard grades. On Monday, 25 Jan 16, the PM40 stocks lost a combined $10,405,191,027.06 in market value--equal to about 2/3rds the market value of International Paper alone. Now, the stock market has been in a stinky mood, so perhaps this entire drop cannot be blamed on this one newsletter's pronouncement, but nevertheless, there is something here to be considered. After all, the PM40 stocks had already been hammered over the last few months as the stock market in general has taken a beating. By Friday, 29 Jan 16, the PM40 had recovered nearly all of this loss of Monday, but that is not the point.

The pulp and paper industry has done a great job in recent years of managing costs and production in order to stabilize the business. At the same time, the ultimate consumers of our products have been receiving outstanding value. Now, for the industry to be subjected to a major value erosion event due to the words in a newsletter is simply breathtaking. It is as if the industry has shown remarkable discipline in all variables except one--one that is extremely important. It makes all the rest of the effort at managing a disciplined business seem futile.

It is long past the time that inputs and outputs in the pulp and paper industry became traded commodities on an open, trusted exchange. I say let the industry see what the real prices are for finished goods and raw materials by operating in an open and transparent fashion.

In the 1990's, I was involved in a trial effort with what was then called the Chicago Board of Trade as they considered whether to make a market in waste paper grades. The effort never got off the ground, and to this day I think that was a mistake.

The industry must do something different. Some sort of transparent pricing system must be developed. Otherwise, we will wake up on another Monday morning with the industry taking another $10 billion haircut, solely on the basis of an opaque survey. This nonsense needs to stop.

Jim Thompson is Executive Editor of Paperitalo Publications. He can be reached by email at jthompson@taii.com.

****

---