Where to now?
Print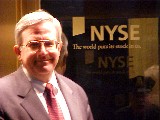 This past week the US jobs generation report came in at its lowest monthly level in six years. We have the most amazing presidential race in my lifetime under way in the United States. Britain is voting this month on leaving the European Union. A politician from Estonia thinks everyone should have a unique ID that they must use every time they log onto the Internet so big brother can track everything everyone does.

And money is as cheap as it has ever been in my lifetime. What should a paper industry executive do?

My first piece of advice would be not to panic. Amazon sales are growing like crazy and that means more boxes, although both Amazon and Walmart are becoming savvier about packaging materials. Walmart claims that by convincing General Mills to make Hamburger Helper with straight noodles instead of curved ones, they reduced the box size to the point that it takes 500 less tractor-trailer trucks to deliver the same amount of this product annually as was delivered using the old style noodles and bigger boxes. Amazon is projected to become the biggest clothing seller in the US next year, overtaking Macy's.

Per capita tissue use is as predictable as the sun coming up every morning.

Surely someday soon printing & writing grades and newsprint will reach an asymptotic bottom.

Face it, we are in a bricks and mortar or tangible products business. The digital world has been our friend when it comes to packaging. We've taken our lumps when it comes to grades used for intangible purposes.

Even Brazil is a bright spot today. Those in charge there now want to change the rules so that foreign firms can buy up more land for tree plantations. They claim to have identified $19 billion in funds sitting on the sideline waiting to purchase more timberland there.

That may not be your focus, yet the question now is where can you use all that cheap money that is available to improve your business?

For starters, if you are still burning coal, and can source other fuels, this would be a good area to investigate. If you are running two old machines in your grades and could replace them with one new machine, you'll improve your product, increase efficiency and likely have a good pricing experience for your capital project--the loads in the machine manufacturer's shops seem light at the moment.

Time and again it has been proven that when things seem uncertain, savvy executives strike.

Jim Thompson is Executive Editor of Paperitalo Publications. He can be reached by email at jthompson@taii.com.

****

---