The Risk Conundrum
Print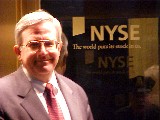 This is environment and regulation month here at Paperitalo Publications. You may want to read my columns on this subject over on Nip Impressions.

Issues surrounding the environment and regulations can be summed up in one word: risk. We have become a risk-averse world. I would hate to attempt to calculate how much money our industry (indeed, all business enterprises) spend on mitigating risk or insuring against exposure to a risk protection lapse. I dare say it is more than the net profit in most industries, including ours.

How much of your day is spent on risk containment? If you think of it in the broadest sense of the word, you'll find it is a significant portion of your thinking and your actions. In the forty-six plus years of my professional life, I can safely say risk mitigation has taken an increasingly larger chunk of my time and resources every year.

Yet, if we look outside our business world and into the social and political world of today, we find risk on the increase, not decreasing. People engage in risky behavior all the time, from recreational drug use to bungee jumping. The largest area of risky behavior is not these sorts of activities--it is political. Look at what just happened in Great Britain with the Brexit vote. Read how many other countries in the European Union are contemplating the same move. Look at the politics in the United States today and the choices available in the United States for presidential candidates. Risky moves all around.

So while we do everything we possibly can to mitigate risk we can control within our companies and as our companies interact with the outside world, the outside world is not cooperating with us.

The pulp and paper industry is one of the original global industries. The roiling of politics all over the world has a fair chance of upsetting the world order of the pulp and paper industry. Senior managers, you need to delegate to subordinates all the risks your company faces that it can control, for soon you will be dealing with risks you cannot control, those being the risks and subsequent consequences of a world in political turmoil.

Jim Thompson is Executive Editor of Paperitalo Publications. He can be reached by email at jthompson@taii.com.
****

---