The Rapid Change in Energy Attitudes
Print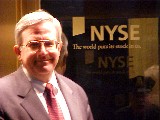 In the Monday Morning "Nips" Show on Pulp & Paper Radio International, I always read a classic Nip Impressions column. Being "Energy Trends" month here at Paperitalo Publications, I thought I would read one on energy this past Monday morning. As I looked through these columns, I was shocked with the changes in just the last ten years in energy attitudes in this country as reflected by what I wrote at various times back to 2005.

For instance, in 2005, before the fracking boom, I was talking about energy prices and the effects in the wintertime of energy traders being in New York--I suggested moving the NYMEX (the New York Mercantile Exchange) to the Bahamas to lower prices, the logic being that if the traders were not commuting into the exchange in the cold, they might not be so bullish on energy prices. Of course, along came fracking and the entire picture changed.

In 2007, I was talking about how everyone was suddenly using the term "green" energy. That, of course, is a well used term now.

In May of 2009 I wrote: "...humans and corporations will drastically change their energy consumption patterns based on price relative to alternatives. 'Relative to alternatives' is extremely important and one must not lose sight of this, for alternatives are constantly changing based on supply and demand."

In March of 2010 I said this: "Many energy projects we read about today, especially at the consumer level, have paybacks all the way up to ten years or even more. Why on earth would you ever do one of these? Do people really think we are going to run out of energy? If so, they have not thought much about the subject."

And there is more, but I'll stop here. In the last ten years we have gone from looking for reliable and economical sources of energy to tying all energy consumption to global warming or climate change, if you prefer. Economics seem to have gone out the window, even with large corporations, for it appears that their desire to look environmentally friendly has become more important than being economical and stable when it comes to criteria for energy sources consumed.

I know ten years ago I was only concerned about economical and stable energy sources when I looked at projects. Now, that is not enough to declare a project viable, for if your customer base thinks you are being irresponsible (by some arbitrary social definition) you will never sell your products and the energy source issue will be moot.

Jim Thompson is Executive Editor of Paperitalo Publications. He can be reached by email at jthompson@taii.com.


****

---