Paperitalo's Boutique
Inside PaperMoney
Departments
Current News
In Closing
Reference Library
Member Options
About Paper Money
The quality of embracing change
Print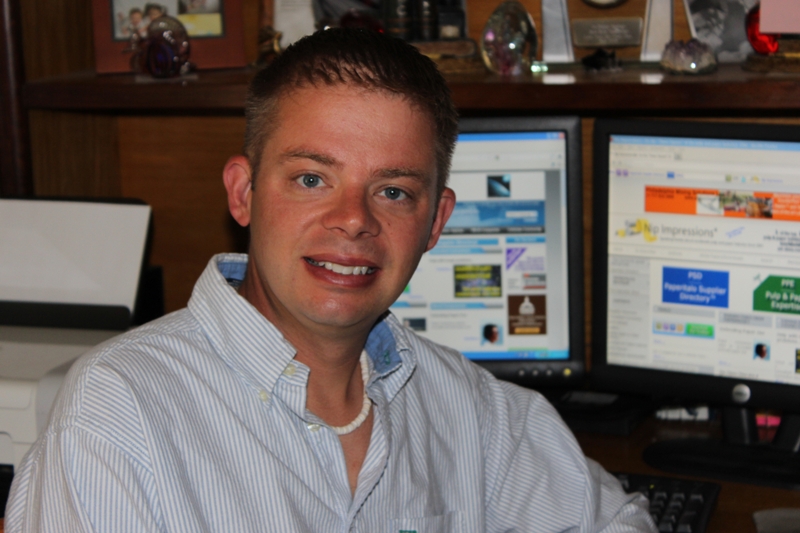 Ladies and gentlemen, it's been said that the only thing that is constant is change.

October is Quality Month here at Paperitalo Publications, and we've addressed several aspects of the theme. But let's take a few moments to examine the quality of not only adapting to - but actually embracing - change.

Since we talked last time, I was able to chat with Mr. Bob Feeser, the Executive Vice President of Consumer and Global Paper Solutions of WestRock. We were both in Raleigh, North Carolina at the recent North Carolina State Pulp and Paper Foundation Annual Meeting and Banquet.

During the general session, Bob addressed the students, along with Rex Robertson, the Manager of Paper Technology and Product Management of Valmet; Cynthia Hendren, who is a Manager of Manufacturing Excellence at International Paper; Dr. Ronnie Hise, the Vice President pf Business and Technical Development of Bonanza Associates; and Miranda Shope, the North America Solutions and Service Businesses Director of Rockwell Automation.

All five gave fine addresses and imparted valuable advice to a room full of engineering students who will no doubt be future leaders in our great industry.

Bob Feeser's main theme was to recognize and embrace change.

"There have been a lot of challenges, both past and present, in an industry that has really gone through a lot of challenges in terms of global competition, but there have been some incredible rewards that can be gained for those who can figure out how to adapt in a changing marketplace," he said. "I have one theme in mind - embrace change for good, in your business and in your career.

"Our business has been all about change for the last century. If you look back over the last three or four decades, we've really dealt with a lot of impacts and megatrends within the business, whether it's globalization, urbanization, commoditization and probably a few more 'zations' that I haven't mentioned that are really about the rise of global middle class and the growth of consumer products and also a lot of the supply and demand dynamics ... Through all of that, the industry has innovated and really figured out how to really tack toward the opportunities in the industry and away from the challenges. I think that's been an important factor in how the industry has really thrived and solidified its place as a critically important part of the global economy."

Feeser said to paraphrase a quote from Mark Twain, "The reports of the demise of the paper industry are greatly exaggerated."

During his three decades in the pulp and paper world, Feeser said he's experienced a lot of change even though he has only worked for one company ... well, sort of.

"Over my 30 years, I've been with the same company, or three companies (Mead Corp., MeadWestvaco and WestRock) depending on how you look at it, and I've experienced a lot of change in my career," he said. "And I think all of those changes created incredible opportunities to really learn and grow, and I've had a lot of different assignments in my career where I've had a chance to develop new skills and become a better leader."

He mentioned the recent RockTenn/MeadWestvaco merger as a prime and timely example.

"(Since the merger) we're now one of the strongest companies in the industry," Feeser said. "The merger really brought together two complimentary businesses. We're one of the largest corrugated paper and packaging businesses in the world with over $15 billion in revenue and over 300 operating locations that include a comprehensive manufacturing platform in North America and a strong presence in Brazil, China, India and Europe."

However, change isn't always easy ... or fun.

Just last week, we reported that WestRock will be closing or idling locations in Oregon and Ohio and indefinitely idling machines in Connecticut and Florida.

The newspaper stories publish quotes like, "It's a sad day for our community," or, "It's a massive shock," but sometimes building a great business means closing the old, outdated or inefficient capacity and focusing on, building or buying new, efficient capacity.

"We're continuously improving our efficiency - around using fiber, energy and water," Feeser said before the recent announcements. "We have to stay ahead of the change curve."

Of course, not all change is unpleasant, and oftentimes change starts from within, Feeser said.

"If you want to be a shift leader or a business leader or ultimately a CEO, think about your approach and change your approach if necessary before you get that next promotion," he said. "I think the rewards from doing that are truly significant. The industry has been changing for a long time to keep up with market dynamics. There are a lot of people over the course of this industry's history who have made this dramatic change possible: at the product level, at the business level and at the industry level. You can read their names on patent filings, plaques, posters around the world. You can see their fingerprints on billion dollar paper machines, billion dollar investments and billions and billions of products that we touch every single day.

"And you can truly feel their influence on generations of leaders and new generations of engineers, designers, scientists, machinists and marketers who collectively will come up with the new innovations that will catapult our industry forward for the next century."

Feeser said Teddy Roosevelt once said that greatest prize in life is to work hard at work worth doing.

"We have to work hard to stay ahead of that change curve," Feeser said. "But it is work that is truly worth doing, because it presents opportunities to advance and contribute meaningfully to an industry on the cutting edge of material science and design innovation and be part of this great family we call the paper industry."

Steve Roush is Vice President, Publisher and Editor and in charge of the International Desk at Paperitalo Publications. He can be reached by email at steve.roush@taii.com.
****

---