Steady in the Storm
Print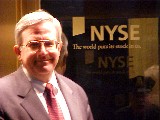 On one of my favorite newscasts wraps up its Friday evening show with panelists offering up their winners and losers for the week. This past Friday evening, one of the panelists said his winner was someone, unidentified, living in a hut in the Amazon forest, completely cut off from anything else in the world. If you have followed the news lately, you can appreciate such a declaration.

Yet when one looks back over the past decade or so in the pulp and paper industry, one has to say that by-and-large it has been a refuge from the storm, too. Yes, the printing & writing and newsprint sectors have continued to decline, but we could see that in the 1990s. Likewise, if you happened to be working at certain mills in the last decade, say Wickliffe, Kentucky, or Courtland, Alabama, to name two in the United States, you might vigorously disagree with me. Let's not forget several mills in Europe that suffered disastrous fates as well.

When one considers all conditions involving the industry, however, it has been "steady as she goes." More people on earth are using pulp and paper products than ever before and those products are improving their lives in environmentally friendly, sustainable ways. Every equipment manufacturer will complain about the depth of its order book, yet if you go back to the first quartile of my own career, I would not have been able to find one equipment manufacturer that would have dared dream, in their wildest dreams, that markets would have opened up for them as they have in recent decades.

On top of that, the equipment is better than ever, more efficient and more stable.

Pulp and paper has indeed been a safe port in the storm in recent times.

Jim Thompson is Executive Editor of Paperitalo Publications. He can be reached by email at jthompson@taii.com.


****

---