Signs of Recession--will maintenance suffer?
Print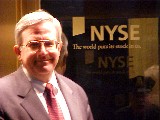 March marks the beginning of my 47th year in industry. Yes, the first few years were not in pulp and paper, but all my adult life has been in heavy industry. In that time, according to Wikipedia, I have seen seven recessions, including the one in which I started my career. As an aside, in three of those recessions, including the one that was going on when I started my career, I transitioned to great jobs with ever more responsibility. Recessions have been good to me.

However, that is not what I want to talk about today--today we will talk about what happens to maintenance during recessions. Soon, if we do have a recession, I predict we will be reading announcements from companies declaring they have pared maintenance and capital renewal to x% of depreciation. They will act as if they just discovered this "marvelous" idea. They will report that extensive studies have shown that (capital equipment has gone down in price) (modern methods allows simplification of processes thus requiring less replacement of redundant/obsolete processes) (you make it up) allowing them to reduce investments in their facilities.

This is not a new idea. It has been practiced for decades. This is why some facilities which otherwise would be first or second quartile competitors in vibrant paper grades feel the sting of the wrecking ball--irresponsible managers in the past made such pronouncements as I posited above.

Sadly, on top of my pro forma examples above, many management teams never restore, let alone catch up, the maintenance they deferred at best, abandoned at worst, in tough times. This is fiduciary criminal behavior of the highest order. It is one thing for private companies to do this (interestingly, they are the ones least likely to do this), but it is quite another for those charged with maintaining the assets and hence the franchise of public companies to do so.

My solution? At least half of executive's bonuses should be tied to some auditable accounting of their attention to maintaining the facilities which they oversee.

Theft by rust is no different than theft by any other name.

By the way, welcome to Maintenance Month at Paperitalo Publications!

Jim Thompson is Executive Editor of Paperitalo Publications. He can be reached by email at jthompson@taii.com.

****

---