Paperitalo's Boutique
Inside PaperMoney
Departments
Current News
In Closing
Reference Library
Member Options
About Paper Money
Questions still not answered
Print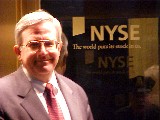 A dear old friend jolted me last week by dredging up an email I had written him many years ago. I found parts of it thought provoking and as valid today as when I wrote it over half a decade ago. Here it is, redacted, to protect the guilty:

"Thinking over the past week, and several things come to mind. Don't know if I can organize them correctly, as I am on my third glass of Sauvignon Blanc for the evening (Laura is out with some old girlfriends that came to town for the weekend). So, I will be bold and blunt about some things that are bothering me in general and if you think the wine is talking, that is fine.

"You mentioned this week that perhaps I could come up with a survey for retired people, and you have no idea how close that comes to my real area of interest.

"You are a bit young for the 'greatest generation'--those that served and died in WW II, but you are close in age to that group. You have many qualities of that age bracket. For instance, obviously, you could have become a "playboy" and not worked in the business, yet, somehow in the values you learned as a boy, that was not acceptable for you. A number of times in the last few years you have referenced how you worked and worked hard to achieve your position in life--it appears you never took bloodline as an obvious way to get ahead--you had to prove yourself to yourself through your own drive.

"Yet, many people not many years younger than you, and certainly extending into my generation and beyond, often try to get ahead by shortcuts. There are a number of CEOs from our industry, for instance, some that even you have referenced in conversations with me [and you have always been very polite and kind when mentioning them, the following is solely my take], that have reputations that are appalling. Yes, in certain environments they put on a facade, and played a part, but in others, sometimes found in the police blotters in the local papers, they were anything but upstanding citizens (and I am not talking about 'mere' matrimonial problems).

"I find it silly to meet 'Senior Consultants' or 'Senior Engineers' that are thirty years old.

"What I want is to understand what we have lost as modern generations in America. I am not talking about politics or religious views--we will always have several divergent viewpoints, as you and I do on these subjects. What I am talking about is values--the desire and drive to do the right thing, not always, for we are all human, but 95% of the time. What I am talking about is learning that it takes time and be satisfied to take that time to develop a skill set, a profession, an ability to deserve to be called a leader--no shortcuts.

"The time I spent at [redacted], for instance, left me completely shaken. I thought I had run into pits of vipers before, particularly in the [redacted] industry, but I would be hard pressed to suggest another environment where I have seen such a bunch of egotistic, money-grabbing, guileless crooks. I have not gotten over it yet. Maybe I am just naive, but I don't think so--I think we have really changed for the worse.

"These things worry me. Any insights you have or can think of will be greatly appreciated. Any forum in which you wish to discuss them is fine with me, too.

"Sorry for rambling, but these are matters where I believe you can still contribute mightily to our industry, for I think our industry has crumbled from within, not due to the changes in the world beyond our control. Yes, the Internet is making sweeping and profound changes in the ways we communicate, and this has certainly affected traditional communications paper, but it does not have to be the demise of our industry. I think leadership attitudes are where the problems lie and I think you may hold some of the last great secrets, at least in the world in which I revolve, to discover what these are."

My friend and I continue this dialogue regularly. However, if you have any insight, I would love to hear from you.

Jim Thompson is Executive Editor of Paperitalo Publications. He can be reached by email at jthompson@taii.com.
****

---