Pot pourri...
Print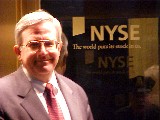 Government stability makes a difference... Back when I started my career, Venezuela was a shining democracy in South America. Look at it now. It is very difficult for companies to do business there. A bit later, the early 1990s, I remember many pulp and paper companies jumping into Russia and other countries in the former Soviet Bloc. Some of those investments have paid off handsomely. Today, Russia is looking like a rather poor bet with conditions deteriorating rapidly. While trying to beat the completion is often a good idea, in situations where the long term stability of the government has not been established, words of caution are in order.
---
Later this month, we are going to be airing our first, we hope annual, Pulp & Paper Radio International Show on Safety, called simply, Safety '15. We hope it will be a wake-up call for the industry--the statistics are grim indeed. So, don't forget to listen to it anytime on 17 Mar 15 or after at www.pnpri.com.
---
Finally, the containerboard business seems to continue to roar along hotter than a firecracker here in the United States. I have told some of the analysts for some time that I did not believe the statistics--the casual data on the ground was a lot more optimistic than that being reported. In the last month, the statistics seem to have caught up with my thinking. It will be interesting to see where these grades will be at the end of the year.
Jim Thompson is Executive Editor of Paperitalo Publications. He can be reached by email at jthompson@taii.com.
****

---