Perception and public relations
Print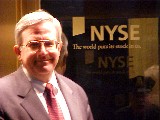 I have often thought that the pulp and paper industry has been clobbered by bad public relations related to its environmental performance and that it makes sense to work on public relations.

This also pertains to the "fourth estate," that is, the press.

You may have read about a journalist who last month was reportedly "disinvited" to a trip to a new Asia Pulp & Paper mill. The night before he was to board a plane to visit the facility, the journalist allegedly received a call from APP asking what he wanted to get out of the trip and he said that he wanted "to know how such a big mill can avoid breaking the zero-deforestation pledge that APP has made."

After being refused from the trip and the tour, the journalist wrote, "APP has a history of breaking promises, and critics say the new mill will inevitably mean more deforestation in Sumatra to feed the mill's enormous appetite for timber. Its acacia plantations simply do not have enough trees to feed the mill and Asia's increasing appetite for paper products such as toilet roll and tissues."

Whatever the real reason for the disinvitation, the journalist wrote, it will be interesting to see what coverage emerges out of a media trip in which some members of the press were intentionally left out after being invited.

We know our industry, but don't assume the rest of the world does -- including media companies that buy newsprint by the ton.

A second example: In another story we reported on last month, there was an update on the environmental case involving the Rayonier Advanced Materials' Jesup Georgia mill. A reporter with an area newspaper wrote, "A Georgia Superior Court has ruled that a pulp mill's visible and pungent pollution of the Altamaha River near Jesup can continue."

Read it again: "Visible and pungent pollution..."

Although Paperitalo Publications is completely electronic and does not buy newsprint by the ton, we obviously understand the pulp and paper industry. This was our lead sentence to the Jesup mill update: "A ruling issued by a Georgia Superior Court Judge has reversed a previous decision in state administrative court that required the Georgia Environmental Protection Division to issue a more stringent pollution permit for the Rayonier Advanced Materials mill near Jesup."

We in the industry need to be reminded from time to time that perception is important. Let's not forget about public relations -- and the press.

Jim Thompson is Executive Editor of Paperitalo Publications. He can be reached by email at jthompson@taii.com.

****

---