One quarter in the history books...
Print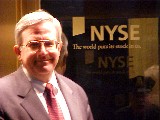 Well, the first quarter of 2016 is in the history books. How is the pulp and paper industry doing? It seems to be a mixed bag with more confusion than we have seen in several years. Is this caused by politics, terrorism, and the US presidential election? Likely to be true for some parts and locations in the industry. The Brazilian pulp industry is doing amazingly well considering the extremely poor condition of the Brazilian economy. Just goes to show you that market demand trumps political malfeasance.

Here in the States, we seem to be in a pause in the growth of demand and/or reallocation of assets (read: old newsprint machines) in the corrugated container sector. Inventories seem to be nervously high.

Other places, not so similar. IP has gotten out of certain businesses in China but is jumping into a newsprint to containerboard conversion in Spain. A tissue mill is being resurrected in Italy. In Finland, they are building a huge bioproducts facility.

First quarter certainly seemed to be unsettling as compared to recent times. However, we have had far worse unsettled times in the past in this industry. And as I enter the 46th year of my career, I will note I have always been able to count on one constant in this industry: change.

Jim Thompson is Executive Editor of Paperitalo Publications. He can be reached by email at jthompson@taii.com.
****

---