More on shaky economies
Print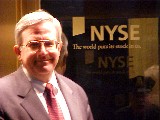 Last month in this space, my column title was "Economies teetering, what to do?" I almost feel compelled simply to repeat it and go on. However, some more thinking is in order. Last month's column referred to poor GDP results in the United States in the first quarter.

Now we must talk about Greece and--Puerto Rico. At the time of this writing, the banks in Greece are closed and the government of Greece is attempting once again to renegotiate loan covenants with the powers that be. In the meantime, stock markets around the world hold their breath.

Puerto Rico appears to be in the same shape as Greece. The US stock market exposure to Greece is about US$14 billion while the exposure to Puerto Rico is roughly US$72 billion. So, it depends on your viewpoint as to which is a more critical concern. As a whole, the US can absorb both of these perturbations. The Puerto Rico mess will not likely rock the world's currencies or trade patterns, just burn some municipal bond holders.

Greece, however, is another matter. Even with a renegotiated loan, the Greek experience leaves the credibility of the Euro badly bruised. This affects all of us, especially in the pulp and paper industry.

The pulp and paper industry needs a stable currency for reasons far from Greece--the South American market pulp juggernaut. South American market pulp affects all parts of our industry, even if one manufactures recycled products, for this pulp supply is integral to the business on a worldwide basis. I dare say a recycled corrugated box maker would somehow feel the effects of a dislocation or disruption in this pulp supply within a month.

Consumers need a steady price pattern for purchasing this market pulp. Wildly fluctuating or failing major currencies preclude the calm pricing needed for this commodity. For even if you purchase your pulp in US dollars, if you consume it in a European mill, you may have problems not of your making when it comes to preparing your P & L statement.

So, what happens to major currencies is important. What happens to the Euro is very important. And the Greek situation has a chance of doing great harm to the Euro.

Jim Thompson is Executive Editor of Paperitalo Publications. He can be reached by email at jthompson@taii.com.
****

---