Management
Print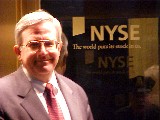 It is Management/Employee Month at Paperitalo Publications.

I think management styles are like men's razors--we are always looking for the perfect solution. Shelves full of management books back up my claim.

Management was pretty simple until the Industrial Revolution arrived. Most people got up in the morning, checked the temperature and precipitation and then went about doing what their ancestors had done during the same time last year and the year before. If you did not do those things, you starved the following winter. The link between work and results may not have been instantaneous, but it was close enough to weed out the non-performers.

Today's world is far more complex. Money is the measure, and governments around the world control the money supply and its sources and uses, and determine who prospers and fails through their policies. Being a non-performer does not necessarily mean you will starve to death, while being a performer does not necessarily mean you will prosper, either.

Surprise, surprise! We here at Paperitalo Publications do not have all the answers to good management. We do adhere to a couple of principles, however:

1. Keep the system, especially the measuring system planning and tracking results, as simple as possible.

2. When all else fails, clear the decks and determine what tasks are "spinnin' the invoice printer" and what tasks are not. Keep the ones that spin the invoice printer and carefully examine and harshly judge all others.

There are clearly many other matters to be filled in, but we firmly believe these are the basics and drifting too far from the basics spells disaster.

Jim Thompson is Executive Editor of Paperitalo Publications. He can be reached by email at jthompson@taii.com.

****

---