Maintenance
Print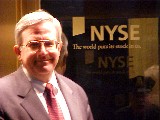 It is maintenance month here at Paperitalo Publications once again. And once again, I'll harp on you board members and senior managers who think it is smart management to skimp on maintenance. In my column on Nip Impressions this week I made the statement that I have become convinced that you can never spend too much on maintenance. Stated another way, the rate of return on maintenance dollars can diminish, but I have never seen a case where an expenditure in maintenance has turned negative.

Training, tools, techniques--maintenance expenditures reduce downtime. It is wishful thinking to believe you do not need downtime but at the same time it is absolutely foolish to budget for emergency downtime. How can you budget for emergency downtime? It is full of unknowns. Budgeting for it is like guessing the price of pulp or recycled fiber two years hence.

So, if you want more profits driven to the bottom line, loosen those purse strings for maintenance. If you don't believe me, set up a test. For one machine in your fleet, budget maintenance as you always have. For another, on another site, let the maintenance dollars flow. See where you are at the end of the year.

Jim Thompson is CEO of Paperitalo Publications.

****

---