How bad is the turmoil?
Print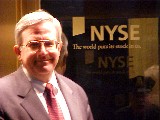 I talked about this in this column last month, but more clarity is coming and it is worth mentioning again. Ever since about noon on the 20th of January, there has been a lot of noise in the United States and around the world. The question for us here in this place is this: how will the pulp and paper industry be affected? Granted, there are a few manufacturers who may feel some pain, particularly if they are conducting a healthy part of their business cross border with the United States and certain trading partners. I suspect when the dust settles, however, this will not be the catastrophe it appears to be at the moment.

Others may have positive benefits. If a company has been stacking up profits overseas because it is too onerous (read: taxes) to bring them home, they may be corporately smiling. If taxes are universally lowered and regulations eased, we may all be smiling. In fact, this is what the stock market is counting on--otherwise the run-up we have seen since November would not have happened.

Cooler heads must prevail. We are not currently in a catastrophe. Most real catastrophes we don't see coming (yes, I know, that is of no comfort). However, it is true--go back to June 1914. No one, I mean no one, would have imagined the contagion that would spread across Europe, indeed the world, in ten short weeks.

I would dare say the Internet, which we certainly did not see coming, had a greater impact on the pulp and paper industry than anything going on right now.

Jim Thompson is CEO and Executive Editor of Paperitalo Publications.

****

---