Finances are still shaky
Print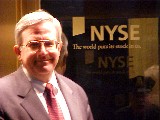 As a worldwide business, the pulp and paper industry is always interested in the behavior of sovereign nations and the international monetary conditions.

This past Friday, yet another crisis was averted when Deutsche Bank was spared immediate liquidation by the intervention of actions by several sovereign nations, including the United States, whose proposed fines for past alleged malfeasance threatened to shut its doors.

This writer tends to believe we have never really recovered from the financial contagion of 2008. Otherwise, interest rates worldwide would be more nearly in line with long term trends and the heady P/E's of the stock markets would descend to traditional levels.

*****
Participate in the Student poster session at the 7th Annual Light Green Machine Institute Conference (16 - 18 Oct 16 in Raleigh, NC)
****
For the shallow financial thinker, things look great--stock markets at record levels, money cheaper than ever. These conditions only mask the underlying weakness. This is not to say however, if you have the intestinal fortitude, you should not invest in your business. In fact, you should, because I am convinced you will never find cheaper money.

What we are missing out on, at least up to this point, is what might have been. The United States has experienced average economic growth over the past eight years of around 1.6% to 1.7% per annum. There have been no 4% growth years for many years.

This financial malaise leads to the infrastructure disrepair growing all around us, not only in the United States but elsewhere in the world. Private industry depends on this infrastructure to deliver goods economically to customers.

We are in a vicious circle that erodes our well-being as a society slowly but persistently. We must find a way out if we ever intend to return to the widespread economic prosperity our parents experienced.

Jim Thompson is Executive Editor of Paperitalo Publications. He can be reached by email at jthompson@taii.com.

****

---