Economies teetering, what to do?
Print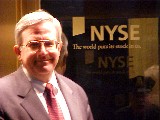 The final first quarter GDP numbers for the United States came in last week and they were not good. In fact, economies around the world seem to be doing rather poorly. Add to that the wars and rumors of wars and you have a situation that is looking rough.

In such conditions, most company leaders generally adopt a pattern of "battening down the hatches"--in other words, chopping spending. I have always found this interesting, for by "chopping spending" such leaders are admitting they did not already have spending under control. You should always have spending under control.

There is something to do on the spending side, however, and it is this. Approach your significant suppliers and see if you can negotiate favorable prices for much further in the future than you traditionally would do. If everyone is reading the same financial news, and they likely are today, they are just as nervous as you are. They may leap at the chance to receive you business commitment for some time in the future. And by commitment, I don't mean you have to jump into some sort of "take or pay" agreement--just commit to being loyal through some sort of purchasing instrument. Or gain a commitment for pricing as long as you buy a certain volume--this could work just as well for you.

Then with the majority of your costs hopefully stabilized, you can go to your best customers and offer them long term deals if they buy at a certain volume (doubt that you will get them to a "take or pay" for the same reasons you won't go there). And, if you haven't done so already, try to move to more stable markets in the long term--products that customers will likely buy no matter the market conditions.

One thing is for certain, the economic uncertainty in the world today is caused by politicians. The underlying need for basic and some premium products is insulated from the whims of politicians. Resolve to conduct business where the politicians' impact is least.

Jim Thompson is Executive Editor of Paperitalo Publications. He can be reached by email at jthompson@taii.com.
****

---