Corruption
Print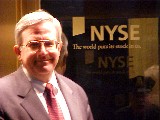 In August, our editorial calendar lists "Corruption" as the emphasis for the month. Here at Paperitalo Publications, we do not always publish "sweetness and light" as other media in our industry seems to do. We want to show all the good, but all the warts, too. It makes us all better. Corruption exists and it continues in our industry. We have been recently reporting on an individual in our industry in the state of Wisconsin who is facing some very serious indictments and going to trial in August. Throughout the year, we often have reports on those trying to game the system one way or another for personal benefit.

Corruption hurts us all. If we lose the basic trust of one another, our managers, our suppliers and our customers, we are likely out of business. At the very least, we are imposing costs and penalties that affect our competitiveness. At the very worst, people are killed--there is the very famous case of the employees, again in Wisconsin, who were convicted of killing a co-worker for reporting them for stealing extension cords. Extension cords!

So, we will continue to ferret out malfeasance, high and low in our efforts to raise the standards throughout all of industry. We have at least one investigative case going on in this area right now. Stay tuned for more.

By the way, we are immensely proud to report that we have been recognized internationally for outstanding business journalism. We have won a 2016 Tabbie award. You can read about it here.

Jim Thompson is Executive Editor of Paperitalo Publications. He can be reached by email at jthompson@taii.com.

****

---