Paperitalo's Boutique
Inside PaperMoney
Departments
Current News
In Closing
Reference Library
Member Options
About Paper Money
A word of warning
Print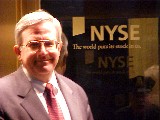 Editor's note: This is a letter I submitted to the Paducah Sun following the announcement that Verso will be indefinitely idling its mill in Wickliffe, Kentucky (Paducah, located approximately 30 miles east of the mill, is the closest city to Wickliffe). Though this letter is directed toward the folks in Western Kentucky, it serves as a cautionary tale for us all.

Dear Editor:

I worked at the Wickliffe paper mill from October of 1981 until December of 1984. These were important years in my career and helped me move on to the position of being a student of the history of the pulp and paper industry worldwide.

Today, I manage three entities in the industry. Talo Analytic International, Inc., a consultancy in business since 1992, and devoted to the pulp and paper industry, is one of these businesses. Another is Paperitalo Publications, LLC, recently spun off from Talo Analytic and the largest electronic publisher of trade news about the pulp and paper industry worldwide. The third is a small non-profit, named the Light Green Machine Institute, which promotes innovation in this industry.

For decades I have watched the developments and the evolution of this industry. As part of my responsibilities, and because of my particular heritage at the mill, I have closely watched what has happened to the Wickliffe mill, from the days of Westvaco to today.

The Wickliffe mill was caught in the wrong grade structure. Its fate has been known for at least twenty years. What may appear as a surprise to the community is not a surprise to me nor anyone in the know on these matters. Here is a link to a recent article in one of our publications that describes the situation in one of the grades of paper that Wickliffe has and could make, Uncoated Freesheet: http://globalpapermoney.com/is-it-really-the-end-of-the-paper-world-as-we-know-it--cms-8452 .

The following is extremely important. A paper mill is designed to make certain grades of paper and no others. To some slight extent, it can be modified to make related grades, but this ability to be modified is very limited. A paper machine is also of a fixed width. Because it is literally part of the building it is in, or perhaps the other way around, the building is part of it, that width cannot be changed. These matters are very important to the re-utilization of an asset such as Wickliffe. Why is width important? Because paper from a mill such as Wickliffe must go to some sort of converting plant in order to be made into final retail products. If the production does not fit some new repurposed converting operation, it cannot be competitive. I'll give a simple theoretical example. Let's say we have a paper machine 100 inches wide and it perfectly fits the converting machinery of its customers, say envelope manufacturers. It is changed to make a grade whose converting lines are 95 inches wide. Doesn't seem like a big deal until you realize you just lost 5% of your gross sales.

I need to dwell on this technical point a moment longer. Why can't the width then be changed? Because this inherent width transfers to the very foundations of the building to carry the load and stresses of the machine. In other words, the foundations are designed for this width. In the case of Wickliffe, I happen to know that it sits on hundreds of piles that are, if I remember correctly, around one hundred feet long (due to the soils condition and the earthquake zone the mill sits in). In other words, this machine cannot be repurposed as one might repurpose an assembly factory for automobiles, office furniture or some other such products. It is fixed.

Why am I telling you all of this? The Western Kentucky region will soon be hit with all sorts of "carpet baggers" who will come to the area and promise to do great things with the Wickliffe mill site. Many of them will come to fleece the state and the region for funds to rejuvenate the mill and restore the high paying jobs. Politicians and economic development professionals will want to believe them and will fork over millions of dollars in tax money to them to restore the former glory of the mill. These people will structure their operations in such a way, that after a year or two they will manage to leave with your money and leave you holding the bag.

How do I know this? I have watched it happen time and again. Send folks to see what happened in Millinocket and East Millinocket Maine. Watch what is going on in Bucksport, Maine right now. Ask the folks in Old Town, Maine. Go to Ohio and examine what happened in the Miami River Valley from Dayton to Cincinnati over the past twenty years. Go to the provinces of Quebec and Ontario and see what happened to the communities that made newsprint. Go to Pasadena, Texas and see what happened to the mill there. Check out what has happened in St. Francisville, Louisiana (where the mill is still running) over the last fifteen years.

One also needs to understand where pulp comes from today. This was one of the products of the Wickliffe mill. Today, pulp comes from southern Brazil, Chile, Argentina and Uruguay, where Eucalyptus trees have been cultivated to grow to 112 feet tall in eight years. North American hardwood pulp (one of the pulp species produced at Wickliffe) cannot compete with this.

I am sure there is some great opportunity for the future of Wickliffe. However, those responsible for vetting the opportunities presented must be very careful to accept the right opportunity. Everyone is no doubt anxious to do something quickly. Something quickly may lead to disappointment. Get it right.

Best wishes and good luck,
Jim Thompson

Jim Thompson is Executive Editor of Paperitalo Publications. He can be reached by email at jthompson@taii.com.
****

---