A rocky year ahead?
Print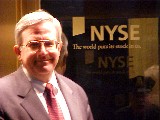 All signs seem to point to a prosperous 2015 here in the United States, at least that is what the mainstream pundits are saying.

There are a couple of things on the horizon that worry me, however. Major dislocations happened in 2014 that look good for certain groups, bad for others. It is what the "bad for others" group does that worries me now.

Consumers of energy are celebrating--energy prices are down everywhere and in nearly every form of energy, except, perhaps electricity. With this situation, how are producers of energy going to have any buying power? Russia is on the ropes and Saudi Arabia, while having large currency reserves, is experiencing a current budget deficit like never before. What will such conditions cause sovereign governments to do? Will they adopt some sort of radical behavior to right their overturned fiscal cart?

The stock market is on one of its longest bull markets in history--some citing the current run as rivaling that leading up to the Crash of 1929 or the Crash of 2008. A collapse in equities will certainly affect many purchasing decisions, both current and capital.

Then, the US Federal Reserve has finally stopped Quantitative Easing and looks ready to jack up interest rates. Of course, if other financial matters "go south" they won't do that, but at the same time, if things do turn sour, they have nowhere to go to prop up the economy--interest rates are already near zero.

All of these matters left the US dollar at the end of 2014 in its strongest position in nearly a decade. This will definitely affect patterns of trade as we go into 2015.

It seems like the economy has been lethargic, both on a national basis and a worldwide basis, since about 2007. Just at the time it looks like we can celebrate some good news, that good news, which turns out to be regional, not universal, could do us all in.

I think 2015 will turn out to be very interesting indeed.

Jim Thompson is Executive Editor of Paperitalo Publications. He can be reached by email at jthompson@taii.com
****

---