A new day
Print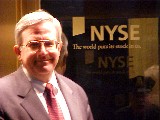 The United States still plays a significant role in the world's overall economy and likely will do so for some time to come. So, when a significant event happens in the US, it affects the whole world. We are about to see a significant event on January 20, 2017, when the new president is inaugurated.

This new administration is likely to affect the world order in ways it has not been affected since Franklin Roosevelt took the oath of office in March 1933. Some are optimistic, some are pessimistic. I am watchful.

On the regulatory front, this new administration may be the friend of the pulp and paper industry. On the international trade front, perhaps an enemy.

The fundamentals we do know are important, however. These conditions are likely going to proceed no matter who is in the White House. First, personalized delivery (read: Amazon) is going to continue to grow and continue to drive the packaging business. This is good for our industry. Second, the world is getting wealthier even in its darkest corners. The first luxury good in places that are poor is toilet paper. There have been 1,300 tissue machines built in the last seven years and the prediction is for another 700 more in the next five years.

This is enough information to prepare you for good returns in the pulp and paper industry in 2017 and beyond. Take it to the bank.

Jim Thompson is CEO and Executive Editor of Paperitalo Publications.

****

---